AMAD
"Archivum Medii Aevi Digitale - Specialized open access repository for research in the middle ages"
To submission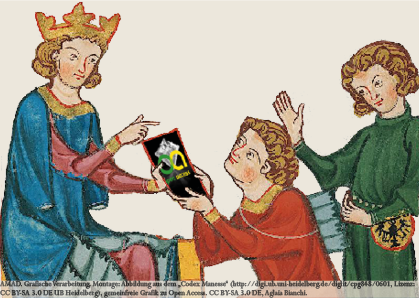 Please use this identifier to cite or link to this item: https://www.amad.org/jspui/handle/123456789/167263
Full metadata record
DC Field
Value
Language
Author
Hammel-Kiesow, Rolf
-
Date
2015
-
URI
http://doi.org/10.25716/amad-85339
-
Description
Dieser Aufsatz wurde zweitveröffentlicht in: Handel, Geld und Politik. Gedenkschrift zu Ehren von Prof. Dr. Rolf Hammel-Kiesow, hrsg. von Angela Huang und Ulla Kypta, bearb. von Mareike Nedel, Frankfurt am Main: AMAD, 2022.
-
Abstract
Der Beitrag widmet sich der ersten Phase der Hansegeschichte, in der gemeinsame niederdeutsche Fahrtgenossenschaften und Niederlassungen entstanden (v.a. 12.-13. Jahrhundert) und das hansische Handelssystem in seinen Grundzügen entstand. Diskutiert werden die Voraussetzungen, die zu dieser Entwicklung beitrugen. Ein besonderer Fokus liegt hier auf dem Ostseeraum als von den niederdeutschen Kaufleuten im Zeitraum zunehmend dominierter Wirtschaftsraum. In Nordwesteuropa schlossen sich die verschiedenen städtischen Fahrergemeinschaften erst später und unter anderen Voraussetzungen zu einer hansischen Gruppe zusammen. Herausgestellt wird nicht zuletzt die Rolle Lübecks bei der Entstehung der hansischen Privilegiengemeinschaft – prägend für die folgenden Jahrhunderte der Hansegeschichte.
-
Abstract
The article is dedicated to the first phase of Hanse history, in which common Low German hansas, merchant communities, and trading posts emerged (especially in the 12th-13th centuries) and the basic features of the Hanse trading system developed. The article presents the prerequisites for this development. A special focus is placed on the Baltic Sea region as an economic area increasingly dominated by Low German merchants during the period. In North-Western Europe, the merchant communities from different towns and regions only joined together later and under different conditions to form a Hanseatic group. The role of Lübeck in the emergence of the Hanseatic privilege community - formative for the following centuries of Hanseatic history - is highlighted.
-
Language
de
-
Part of an anthology
A Companion to the Hanseatic League, hrsg. von Donald J. Harreld, Leiden: Brill 2015, S. 15–63.
-
Rights
CC BY-NC 4.0
-
Keywords
Hanse
-
Keywords
Festschrift
-
Keywords
Stadtgeschichte
-
Keywords
Wirtschaftsgeschichte
-
Keywords
12. Jahrhundert
-
Keywords
13. Jahrhundert
-
Keywords
Kaufleute
-
Title
The Early Hanses
-
Type
Aufsatz
-
Discipline
Geschichte
-
OPR ID
93
-
Appears in Collections:
Handel, Geld und Politik. Gedenkschrift zu Ehren von Prof. Dr. Rolf Hammel-Kiesow

Items in DSpace are protected by copyright, with all rights reserved, unless otherwise indicated.