AMAD
"Archivum Medii Aevi Digitale - Specialized open access repository for research in the middle ages"
To submission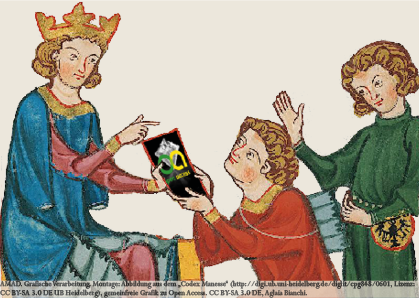 Please use this identifier to cite or link to this item: https://www.amad.org/jspui/handle/123456789/167163
Full metadata record
DC Field
Value
Language
Author
Sonntag, Jörg
-
Date
2021
-
Other Identifier
https://mittelalter.hypotheses.org/26831
-
URI
https://doi.org/10.26012/mittelalter-26831
-
Abstract
Das kulturelle Potenzial des menschlichen Haares im Frühmittelalter Zusammenfassung: Dieser Beitrag untersucht und diskutiert das soziokulturelle Potenzial des Kopf- und Gesichtshaares im Frühmittelalter. Er fokussiert auf die Analysefelder von Sozialstatus und Religion und versucht, die symbolischen Dimensionen des Haares.
de_DE
Language
de
-
Keywords
Haar
de_DE
Keywords
hair
en_US
Keywords
Kulturgeschichte
de_DE
Keywords
Frühmittelalter
de_DE
Keywords
Geschichtswissenschaft
de_DE
Keywords
Mediävistik
de_DE
Title
Von langen Bärten und geschorenen Köpfen
de_DE
Other Titles
Das kulturelle Potenzial des menschlichen Haares im Frühmittelalter
de_DE
Type
Article
en_US
Discipline
Geschichte
-
Appears in Collections:
Mittelalter. Interdisziplinäre Forschung und Rezeptionsgeschichte
Open Access

Items in DSpace are protected by copyright, with all rights reserved, unless otherwise indicated.