AMAD
"Archivum Medii Aevi Digitale - Specialized open access repository for research in the middle ages"
To submission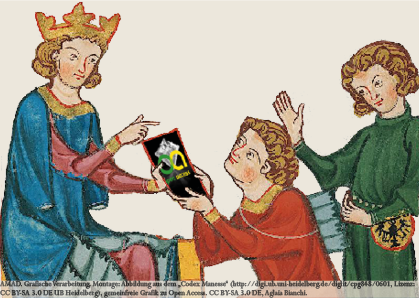 Please use this identifier to cite or link to this item: https://www.amad.org/jspui/handle/123456789/167158
Full metadata record
DC Field
Value
Language
License
CC BY-SA 4.0
-
Author
Gebert, Björn
-
Date
2015
-
URI
https://www.amad.org/jspui/handle/123456789/167158
-
URI
https://doi.org/10.25716/amad-85247
-
Abstract
Der vorliegende Aufsatz untersucht die Organisation und Struktur des mittelalterlichen Klosterverbands von Sankt Viktor. Dabei werden zunächst die selbständigen Männer- und Frauenklöster identifiziert, die den im "Liber Ordinis" festgelegten viktorinischen Gewohnheiten folgten oder Äbte aus einem Viktorinerkloster hatten. In einem zweiten Schritt wird anhand verschiedener Kriterien, z.B. Generalkapitel, Exemtion, Gebetsverbrüderung und Visitation, und der aus den überkommenen Quellen dazu vorhandenen Informationen die Verfasstheit des Verbands näher bestimmt. Abschließend werden die Ergebnisse für einen Vergleich mit der Organisation anderer Klosterverbände herangezogen.
ger
Abstract
The article investigates the organisation and structure of the medieval Congregation of Saint Victor. In a first step, the abbeys (and independent priories) are identified, which either followed the Victorine customs or had Victorines as abbots. Then the organisational bonds between these monasteries are investigated by analysing the sources, especially gathering information regarding characteristics typical for religious orders or congregations, like general chapter, exemption, confraternisation and visitation. Finally, the findings are compared with organisational models known from other congregations.
eng
Publisher
Münster: Aschendorff
-
Dewey Decimal Classification
940
-
Title
Sankt Viktor von Paris und die Viktoriner
-
Other Titles
Institutionelle Strukturen eines mittelalterlichen Klosterverbandes
-
Type
Article
-
Appears in Collections:
Aufsätze
Open Access

Items in DSpace are protected by copyright, with all rights reserved, unless otherwise indicated.