AMAD
"Archivum Medii Aevi Digitale - Specialized open access repository for research in the middle ages"
To submission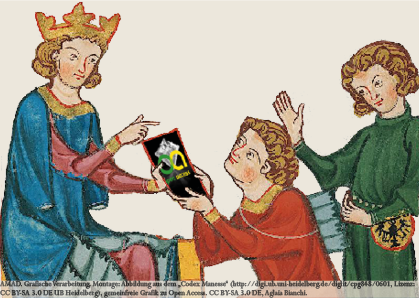 Please use this identifier to cite or link to this item: https://www.amad.org/jspui/handle/123456789/167156
Full metadata record
DC Field
Value
Language
License
CC BY-SA 3.0 DE
-
Author
Schultz-Balluff, Simone
-
Date
2021
-
Other Identifier
https://hwgl.hypotheses.org/1397
-
URI
https://doi.org/10.25716/amad-85246
-
Abstract
Der vorliegende Beitrag befasst sich mit der vormodernen Fachliteratur zur Jagd. Mit einer Analyse der Zusammensetzung des Münchener Jagdbuchs (UB München, 8° Cod. ms. 354) und der einzigen darin enthaltenen ganzseitigen Miniatur wird der Frage nach dem Profil des Auftraggebers und der folgenden Nutzer nachgegangen.
en_US
Language
de
en_US
Publisher
Marseille: de.hypotheses.org
en_US
Series/Report no.
Netzwerk Historische Wissens- und Gebrauchsliteratur;20.04.2021
-
Keywords
Forst- und Jagdwesen
en_US
Keywords
Spätmittelalter
en_US
Keywords
Handschriften
en_US
Keywords
Visual History
en_US
Keywords
Germanistische Philologie
en_US
Dewey Decimal Classification
940
-
Title
Ein jagdlicher 'Allrounder' im Spätmittelalter? Überlegungen zum Benutzungsprofil des Münchener Jagdbuchs (UB München, 8° Cod. ms. 354)
en_US
Type
Article
en_US
Discipline
Germanistik
-
Appears in Collections:
Aufsätze
Open Access

Items in DSpace are protected by copyright, with all rights reserved, unless otherwise indicated.